Regular price
$164.95 USD
Regular price
Sale price
$164.95 USD
Unit price
per
Sale
Sold out
A curated collection for overall balance + relief

Includes Relief, Calm, Sleep + Health Products
Promotes a Synergistic Cannabinoid Response
Optimizes Delivery & Bioavailability
View Lab Results
View full details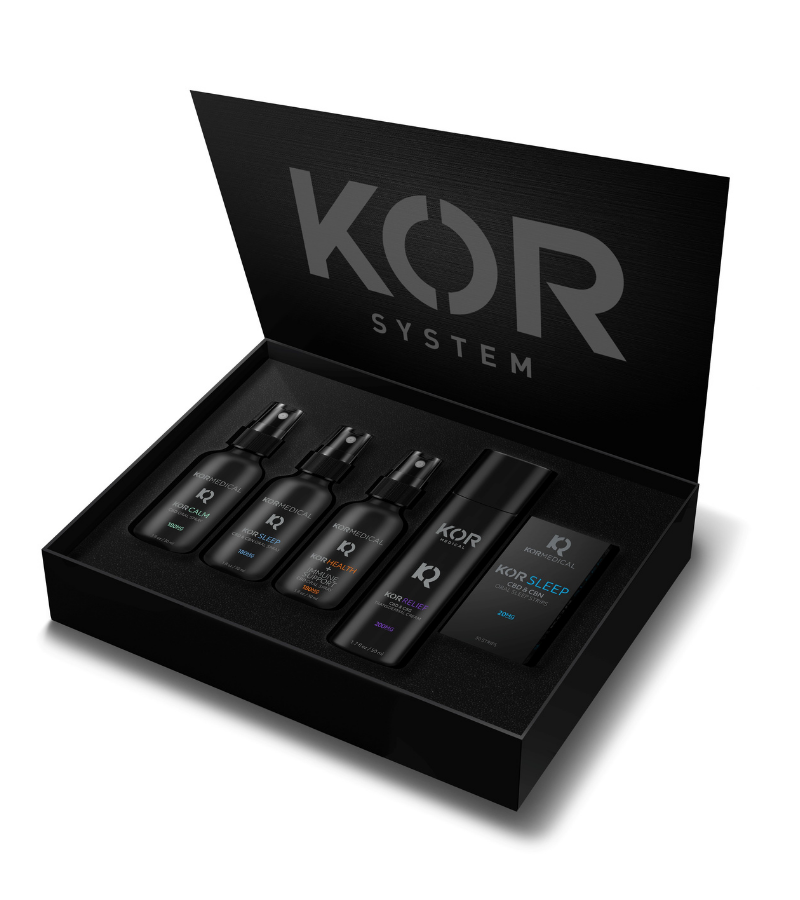 What's in the box?
Regular price

Sale price

$44.95 USD

Unit price

per

Regular price

Sale price

$34.95 USD

Unit price

per
About

When your system is out of balance, everything suffers – which is why we have crafted this collection to support every angle of your body and mind.

The KOR System includes our exclusive launch products at a bundled price. The products included in the system work in concert to promote balance and relief. What does this mean for you? Using these products in tandem promotes a synergistic response for your overall wellness.

Each system includes a matte display box, making this a perfect gift.

Cannabinoids

Cannabinoids enhance one another when taken together, causing a synergistic response known as the entourage effect. The KOR System contains CBD, CBN, and CBG to bring your endocannabinoid system back to full equilibrium and provide a full AM to PM solution.
Frequently Asked Questions
Is this product legal?

Yes. This product is legal in all 50 states.

Purchasing CBD is federally legal under the 2018 Farm Bill.
Do I save money when buying the KOR System versus individual products?

Yes. We offer a 30% discount when you bundle and save versus purchasing the individual products.
What is nanoemulsification?

Nanoemulsification is an advanced delivery system used to increase the absorption rate, or bioavailability, of a product.

In traditional CBD consumption, your body only absorbs a small fraction of the active cannabinoid. Nanoemulsification is a patented process that improves that absorption rate significantly.

The nanoemulsification process reduces the oil particle size to provide more bioavailability, or higher absorption rates, of the product. Because of this, our nanoemulsified products can bypass your stomach acids and enter your bloodstream quicker and in higher amounts.

Our sublingual sprays use an unprecedented administration technology in which the cannabinoid is atomized under the tongue to facilitate diffusion into the capillary network (the blood vessels under your tongue).

This combination allows for faster onset than traditional oral administration.